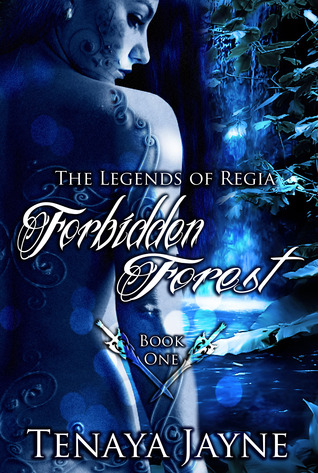 Born in shame. Cast from society. Shape Shifter/Elf hybrid, Forest must fight for any respect she can get. Targeted in her youth by a vampire noble who placed an illegal slave mark on her, she is forced to obey him, no matter what.

Slipping the grip of her master and abandoning the prejudice of Regia, her native world, Forest takes a job on Earth, guarding the portal, using her skills as a warrior to enforce Regia's laws. Now, called home for a black ops mission, Forest must put aside her own prejudice to transport the vampire prince, Syrus, through enemy territory in a time of war.

Prince Syrus, mage and master of the Blood Kata, wants Forest more than he's ever wanted anything. In spite of their mutual mistrust, their attraction cannot be denied. Through the danger of their mission, and the secrets they both keep, it doesn't matter what they feel. Forest is forbidden.
The first few chapters of this book, I was sceptical, but once Forest makes her way into Regia, and the story begins to progress, I couldn't put it down!! This is an epic fantasy series that has so much potential, with so many elements to be followed up and expanded; Tenaya Jayne should be very proud of her imagination.
Forest is an excellent heroine for this series; she's fiery, passionate and kick-ass, but tormented by the mistakes she's made in the past, and the wrongs that others have enforced upon her, first her hybrid status and then a twisted and abusive relationship with a vampire, Leith, that won't end, no matter how hard she tries. As a shapeshifter, she does not change into an animal, but can manipulate her form as a woman at will. Only one person other than herself will be able to see her true form underneath her magic, her mate- and that suits her fine, as she is able to cover the scars that mark her shame.
Syrus is a direct contrast to those around him of his kind. Blind, but able to use his other senses to more than compensate, he is a mixture of sweet and spoiled, sympathetic and stubborn, adorable and fierce. Forest and this mission challenge him in ways he never imagined, and opens his eyes, literally and figuratively to a whole new side of life.
Watching their humour and temper intermingle as they bicker their way through their mission is hilarious and whilst it is frustrating how they resist their feelings, considering the context of their romance, it is most definitely the right decision on the writers part.
The book diverts away from the main story at just the right moments to show you how everything is progressing in the background; by keeping the reader in the loop like this, it avoids the whole information dump of background stuff that I hate- the reader definitely knows a lot more than both the main characters, which adds to the complexity and enjoyment of the book. A lot of the story development is politically motivated, and the themes of race and power are incredibly well handled; they are there and poignant if you are looking for them, and just a great story if you aren't.
The ending was abrupt, but leaves the door wide open for what could happen in the sequel. I suppose that is what a book is supposed to do when it is the opener for a series- make you all comfy and happy, before dragging you by the hair to the kindle store to buy the next book.